What I Learnt Today : Darkweb raises funds for assassinating both Donald Trump and Mike Pence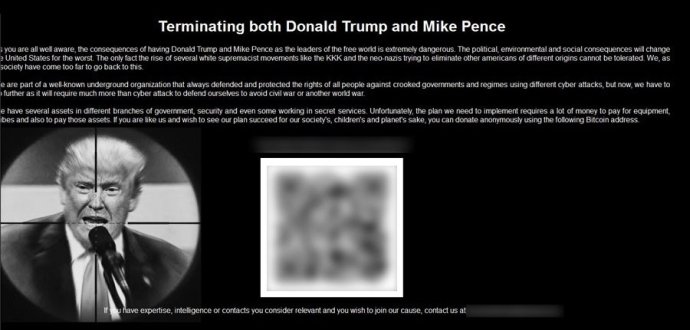 image credit
We're all familiar to the word "Darkweb". This is the most secured, anonymous & mysterious internet's underworld where all kinds of illegal services & products are found. The websites on Darkweb can only be accessible via TOR browser which masks IP(Internet protocol) addresses. We know FBI has shut down the biggest drug selling darknet marketplace Silkroad.
Now, someone or, a group has recently developed a dark-website to collect funds for assassinating both President-elect Donald Trump and Vice-President-elect Mike Pence. This dark-website went live the previous week. The website has only a single HTML (Hyper Text Markup Language) file that contains this following plain text -
Full Message On Darkwebsite
"As you are all well aware, the consequences of having Donald Trump and Mike Pence as the leaders of the free world is extremely dangerous," the website reads. "The political, environmental and social consequences will change the United States for the worst.

Pointing to the "rise of several white supremacist movements like the
KKK and the neo-nazis," the site promoting assassination says "trying
to eliminate other Americans of different origins cannot be
tolerated."

"We, as a society have come too far to go back to this," it adds.

The site's authors claim they are part of a "well-known organization
that has always defended and protected the rights of all people
against crooked governments and regimes using different cyber
attacks."

It says it now needs to go further, "as it will require much more than
cyber attack to defend ourselves to avoid civil war or another world
war."

We have several assets in different branches of government, security
and even some working in secret services," it claims. "Unfortunately,
the plan we need to implement requires a lot of money to pay for
equipment, bribes and also to pay those assets."

The site asks for anonymous donations from those who "wish to see our
plan succeed" and asks those with "expertise, intelligence or contacts
you consider relevant," to get in touch.
Is there any chance to trace them ?
It's very hard to trace this group who conduct this darkwebsite. Because, this website can only be accessible via TOR browser which masks IP(Internet protocol) addresses. When you browse through TOR Network, the information going out of your computer is being sent through several volunteer computers around the globe, to keep the original location the information was sent from – And the place it's going to – anonymous.
However, a hacker group has reportedly claimed that they know the identity of the person behind the Dark Web Trump-Pence threat. He is a Canadian Scammer.
How to collect funds on Darkwebsite ?
They collect donations for this assassination mission via Bitcoin. They posted their Bitcoin wallet address on this darkwebsite. According to the report within one week they collected over $88K in their bitcoin wallet.
---
Sources for the news and further reading
---
---
Tags : Crime, Cyber Crime, Darkweb, News, Politics,
---
This Post Was Published On
My Steemit Blog
. Please, navigate to steemit and cast a free upvote to help me if you like my post. First Time heard about Steemit ?
Click Here
To Know Everything About Steemit
---
---
$3 Donation [Fixed]
$Any Amount
---
---