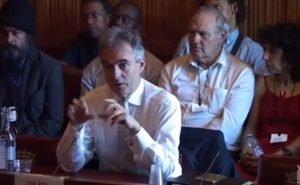 A committee of the UK House of Lords, the upper chamber of Parliament, struck a curious and at times critical tone when discussing blockchain technology and its impact on finance and government. During an afternoon hearing of the The Economic Affairs Committee, members heard from academics and representatives of the blockchain industry, as well as Ben Broadbent, the deputy governor for monetary policy of the Bank of England. Lasting about three hours, the hearing demonstrated a mixture of genuine interest and skepticism on the part of committee members.
---
Tags : Bitcoin, Blockchain, Cryptocurrency, Economics, News, Politics,
---
This Post Was Published On
My Steemit Blog
. Please, navigate to steemit and cast a free upvote to help me if you like my post. First Time heard about Steemit ?
Click Here
To Know Everything About Steemit
---
---
$3 Donation [Fixed]
$Any Amount
---
---