Yesterday, I got a few twitter notifications where electrum warned about using of "Electron Cash". What is "Electron Cash" ? It's a lightweight HD wallet for "Bitcoin Cash", very likely to "electrum". There is a potential risk of losing your original Bitcoins if you are currently using electrum and if you install both "electrum" and "electron cash" on the same PC. Because, it copies all your "electrum wallet files" into its own directory. And it's too dangerous to use your original "electrum seed" into "electron cash" to import your existing BTC wallets. In addition its binary files are signed with a pseudonym
"Jonald Fyookball".
I'm astonished that why the creator or developer group want to hide their real identities and wanna keep them as anonymous. If a huge amounts of BTC are stolen via "electron cash" then there will be no chance to trace them. Although, they provide source codes but, when you run binaries instead of source code, you have no guarantee that they match the source code. To avoid these you need to first examine the source codes then compile it to binaries which needs an expert coder.
So, Be Careful :)
Here is a statement from Electrum about "Electron Cash" :
The person who distributes the Electron Cash binaries has decided to remain anonymous, and uses the fake name "Jonald Fyookball" in order to sign Electron Cash binaries. Thus, if these binaries contain code that is designed to steal your bitcoins, the author of the theft will be anonymous and walk away safely with your funds.
This danger is exacerbated by the fact that the default behaviour of Electron Cash is to silently copy all your Electrum wallets into its own directory. Thus, if you run Electron Cash on a machine where you previously used Electrum, all your pre-existing wallets will be available in Electron Cash, and you will only need to enter your password in order to expose your bitcoins to potential theft.
So, how can you extract your Bitcoin Cash through "Electron Cash" without facing any security issues ? Electrum stated 4 easy steps to do that -
1. Install Electron Cash on a machine that does not have your Electrum wallets.
2. Wait until the BCC hard fork has taken place, and a few BCC blocks have been mined.
3. Move all your Electrum funds to a new Electrum wallet. This will move only your BTC, and not your BCC, because the BCC blockchain has replay protection. Wait until the transaction is confirmed.
4. Enter the seed of your (now empty) old wallet or private keys in Electron Cash. Since the BTC have been moved to a new wallet, entering your old seed in Electron Cash will not put your BTC funds at risk.
Following these 4 easy steps you will be able to access your BCC without compromising your BTC.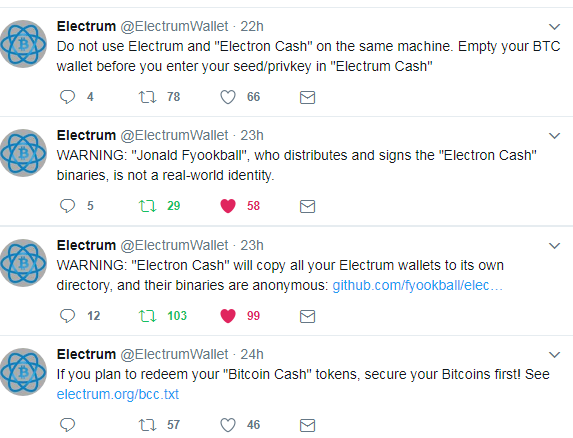 Tweets of Electrum to warn about using Electron Cash
Update : My Antivirus are now blocking the website of Electron Cash ; says potential unsafe for visiting this website.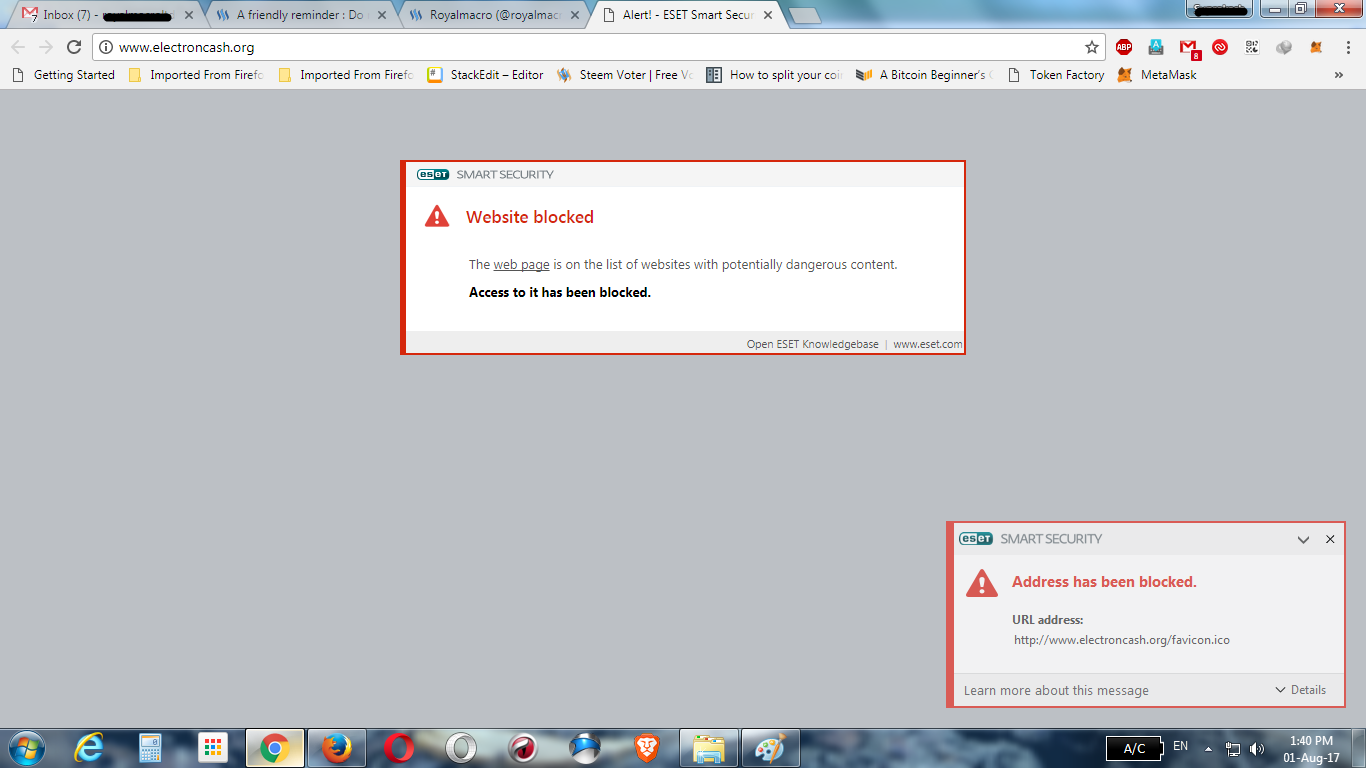 ---
Tags : Bitcoin, Cryptocurrency, Bitcoin Cash, Software, Security,
---
This Post Was Published On
My Steemit Blog
. Please, navigate to steemit and cast a free upvote to help me if you like my post. First Time heard about Steemit ?
Click Here
To Know Everything About Steemit
---
---
---
---